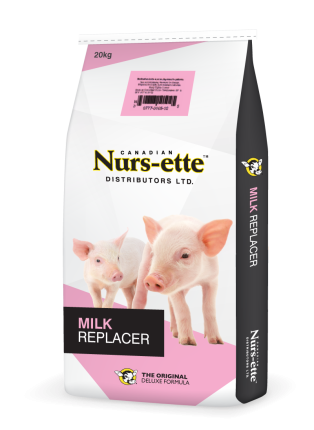 Feeds Act Registration No.412006 |*This feed contains added selenium at 0.3 mg/kg
GUARANTEED ANALYSIS
| | |
| --- | --- |
| Crude Protein (Min.) | 24.0% |
| Crude Protein from Milk Sources (Min.) | 24.0% |
| Crude Fat (Min.). | 12.0% |
| Crude Fiber (Max.) | 0.25% |
| Phosphorus (Actual) | 0.80% |
| Calcium (Actual) | 1.0% |
| Sodium (Actual) | 0.70% |
| Zinc (Actual) | 250 mg/kg |
| Copper (Actual) | 66 mg/kg |
| Vitamin A (Min.) | 20,000 IU/k |
| Vitamin D (Min.) | 1,500 IU/kg |
| Vitamin E (Min.) | 50 IU/kg |
MIXING & FEEDING DIRECTIONS:
DeLuxe Baby Pig milk replacer can be used for orphaned baby pigs or extra pigs taken from large litters or to supplement sows milk in a regular pre-starter program.
Be sure that all pigs receive adequate colostrum for 1 to 3 days after birth. Then start feeding DeLuxe Baby Pig milk replacer continuously until weaned.
Mix 1 kg of DeLuxe Baby Pig milk replacer with 4 liters of warm water (38 C) and feed at the rate of 2/3 liter of mixture per 2.5 kg of body weight daily. Baby pigs during this period should have the daily milk replacer divided into 4 or 5 equal feedings.
1 standard measuring cup = 250 mL by volume (about 130 g powder)
Available in 10 kg & 20 kg bags
Feedings must be evenly spaced.
Mix fresh milk replacer each day and feed at room temperature.
Sanitation is important. Keep feeding equipment clean! Use clean feeding utensils.
Keep fresh, clean water before baby pigs at all times.
Pigs must be kept in a warm, dry, draft free and well-lite pen.
Good husbandry and sanitation are essential for success.
100% Milk Protein
Improved gains
Piglets can be weaned earlier, saving on time and money
Superior feed efficiency
Consistent high quality ingredients used
Manufactured using stringent quality control processes
Contains Maxi-Gen Plus

Comprehensive blend of yeast derivatives
All natural product with no withdrawl period