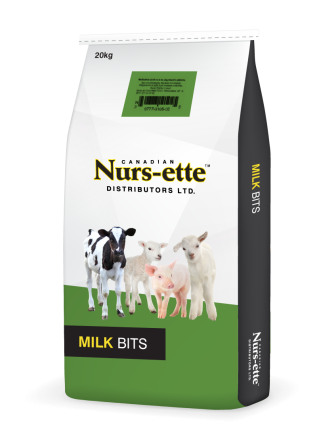 Feeds Act Registration No.510201 |*This feed contains added selenium at 0.3 mg/kg
GUARANTEED ANALYSIS
| | |
| --- | --- |
| Crude Protein (Min.) | 20.0% |
| Crude Protein from Milk Sources (Min.) | 17.0% |
| Crude Fat (Min.). | 12.0% |
| Crude Fiber (Max.) | 0.25% |
| Phosphorus (Actual) | 0.75% |
| Calcium (Actual) | 0.80% |
| Sodium (Actual) | 0.80% |
| Vitamin A (Min.) | 30,000 IU/k |
| Vitamin D (Min.) | 5,000 IU/kg |
| Vitamin E (Min.) | 50 IU/kg |
SUGGESTED FEEDING SCHEDULE:
EARLY WEANING
Age
(Days)

DeLuxe Calf
Milk Replacer

Calf 12
Milk Bits

Calf Starter

1 - 3
colostrum
4 - 17
per feeding schedule
115 - 225g per day
none
18 - 42
none
1000g per day
feed to appetite
Have water available at all times.
Calf starter should be top dressed with Milk Bits.

1 standard measuring cup (250mL by volume) = about 150g of pellets
Available in 10 kg & 20 kg bags
Serve only enough Milk Bits that a calf will consume daily.
Use clean feeding utensils.
Keep fresh, clean water before calves at all times.
When calves are of age, feed an excellent quality legume hay.
Feed a quality, palatable calf starter ration.
House calves in warm, dry and draft free quarters.
Follow the program of your feed consultant after calves are weaned.
High in Milk Proteins


Provides palatable diet with excellent amino-acid profile.

High in Fat (12%)

Excellent energy for young calves.

Contains Smart Care

Improves growth performance and feed efficiency
Boosts immune status and alleviates stress
Reduces incidences of scouring

Fortified with Minerals & Vitamins

Supplements minerals, trace minerals and vitamins required for excellent early growth.

Pellet

Promotes good intake of dry feed. Note, calves must be drinkinng adequate water when feeding Calf 12 Milk Bits.